Budgeting for your wedding
Weddings can be expensive, with a recent survey reporting that the average cost of a wedding in Australia is $31,3001. So when it comes to your big day, it's important to talk to your partner about how much you can realistically afford to spend. Then, you can create a budget together. Here are some tips to help you get started.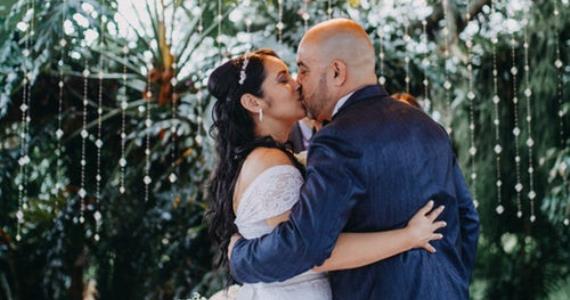 CREATE A REALISTIC BUDGET
Before coming up with a wedding wish list, reviewing your savings and budget is a good first step. This means creating a realistic budget that's built around your wedding plans and timeline.
With time being hard to come by, it's worth looking into getting help from an expert in financial planning for married couples. Relationships Australia is a great resource for this.
When you're creating a budget, keep in mind there are other ways of boosting your wedding budget. For example, did you know it's becoming more common to have a wishing well instead of traditional gifts?
From cash donations to honeymoon travel vouchers, adding useful gift ideas to your wedding planning list can be a great idea. Plus, parents and friends are often all too happy to chip in – extra help that can go a long way.
When it comes to paying for everything, from engagement rings to your honeymoon, using your savings will always be a smart move. But with a careful repayment plan in place,
Wedding services can range from simple to extravagant. Wherever you sit on the scale, there are ways to keep the costs down and still make it a special day.
Depending on your budget, this might mean having a smaller service in a smaller venue, writing your own ceremony and vows (instead of the celebrant doing it for you), or preparing a list of photo shots and a time frame for your photographer.
At a bare minimum, a registry wedding will tick all the right legal boxes, and cost you between $200 and $500, depending on which state or territory you get married in.
It's also worth contacting your local council or government. They'll usually have venues that they hire out to the general public, some of which can be much cheaper alternatives to more traditional options.
THE RECEPTION COSTS
The cake, the car and the music. These are staple costs of a reception, but there's no reason they should break the bank.
You could have a smaller cake for photo purposes, or individual ones for your guests. If a live band isn't in the budget, there are always solo singers, DJs, or even Spotify playlists that your friends and family can contribute to.
When it comes to transport, look into renting or borrowing a luxury car from friends or family, or putting in the time to research high-end vehicles at affordable prices.
THE OUTFIT COSTS
For the groom and groomsmen, hiring instead of buying suits is something to think about. It can be a cheaper way of looking great, without compromising on fashion.
Thanks to online shopping, sourcing a dress here or overseas for the bride and bridal party has made finding something within budget much easier, though delivery times should always be kept in mind.
Second-hand marketplaces such as Upcycled Bride are great places to search, as are other websites such as Gumtree and eBay.
THE LEGALITIES
After your wedding, you'll need to apply for your marriage certificate. You can do this through your state or territory registry, and the costs will depend on where you tie the knot.
The Australian Government's website is a good place to start for finding out useful information on legal costs and other legal requirements. Otherwise, visit the relevant state or territory registry website.
THE HONEYMOON COSTS
Choosing a honeymoon destination is about balancing what you want with what you can afford.
To narrow down your options, websites such as TripAdvisor are handy for reading first-hand reviews of hotels and activities.
Talking to travel agents can also help you find the cheapest time to head off.
Want to jet off sooner? If your finances are in good shape, but you don't quite have the savings to cover everything, this is where using your credit card can help. This is a great option, particularly for covering bigger costs such as flights or accommodation.
Finally, taking out travel insurance is great for peace of mind. If you chat to the experts, you'll be able to find a comprehensive option that's still affordable, covering plan changes and worst-case scenarios.
Please contact us on |PHONE| if we can be of assistance.
The information contained in this article is correct as of July 2018 and is intended to be of a general nature only. It has been prepared without taking into account any person's objectives, financial situation or needs. Before acting on this information, NAB recommends that you consider whether it is appropriate for your circumstances. NAB recommends that you seek independent legal, financial, and taxation advice before acting on any information in this article.
Important:
Any information provided by the author detailed above is separate and external to our business and our Licensee. Neither our business, nor our Licensee take any responsibility for any action or any service provided by the author.
Any links have been provided with permission for information purposes only and will take you to external websites, which are not connected to our company in any way. Note: Our company does not endorse and is not responsible for the accuracy of the contents/information contained within the linked site(s) accessible from this page.
Source: Delta Feed New